16 oct 2013 - RECORDS REPRESSED ALL AROUND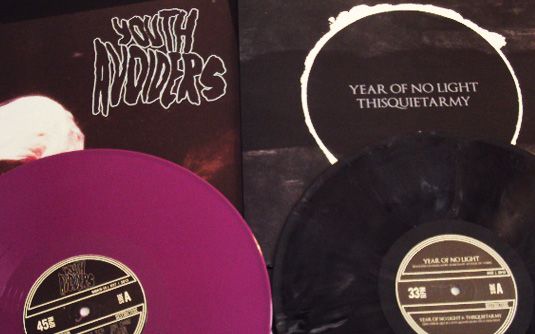 Before working on new releases, Destructure is currently focusing on represses this fall.
We started last month with Youth Avoiders debut album that we released early this year. After a second successfull US tour, the PARIS based punk band did a 10 days European tour. The day before leaving they received boxes full of beautlifull purple vinyl. We did this again together with Build Me A Bomb from Lille, there are only 350 copies and going fast so don't waste time and order it here.
Second episode is a repress of a recording released last year that has sold very quickly, of course it is YEAR OF NO LIGHT & THISQUIETARMY split / collaboration LP. Both bands are touring Europe now and are playing at Amplifest in Porto. We couldn't miss the opportunity and ordered 385 copies of this on white marbled black vinyl that is very well matching the cover. Again don't waste time and order it now because lots of people have been asking for this one.
Last repress for this fall will be the reissue of H A R K first 7″ initially released last summer. The band is gearing up for a small headlining tour in november and their full lenght won't be released until 2014. 300 copies on orange wax and this one will have a new packaging designed by HARK front-man Jimbob Isaac. Records will be ready mid november but you don't want to miss this and can pre-order it here.